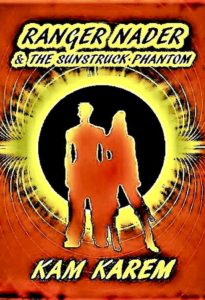 Follow along with me over the next few months as I launch and market my Middle Grade Book, Ranger Nader & The Sunstruck Phantom.  
My family, the Karems, were "keepers of the Cedars of God" in Bsharri, Lebanon, where for generations they shared responsibility for tending to the holy grove of trees with other residents of their town. My direct family left Bsharri in the 1900's as part of the large migration fleeing taxation and persecution by the Ottomans.
Lebanon's deforestation at the hands of raiders and invaders, and thousands of years of over-use, is the stuff of many legends – The Epic of Gilgamesh being one. In The Epic, 4700 years ago,  Gilgamesh fought Humbaba, the guardian of the forest, for the right to use the trees to build his kingdom. Gilgamesh won, and proceeded to clear-cut the Cedar Forest,
My goal is to spiffy-up said book and have it polished up by mid-November  in time for the Christmas market.
Here's the book blurb to give you and idea about what it is about:
Ranger Nader's an ordinary 9th grader; or so he thinks. Then, he inherits a magical axe from his Lebanese grandmother and learns he's this generation's "Guardian of the Cedars." Eons ago, Gilgamesh, a sun-struck demi-god, used this very same axe to clear-cut Lebanon's famous Cedar Forest. The resulting Great Flood nearly wiped out all life. Now, the evil king has returned to finish what he started. With the help of his sister, two cousins, and the axe of course, Ranger has to stop him.
Here's the link to Amazon in case you want to check it out: https://amzn.to/2yMX15A
I'd decided to go with a "soft opening" before my formal "ribbon cutting" book launch. Given the number of Kindle and Create Space formatting problems I've experienced in the past, I'm making the book accessible via Amazon and having trusted readers download it onto various readers, so I can pin-point all those pesky formatting issues. I also would like to include back matter in the book with references for Gilgamesh's role in clear-cutting the Cedar Forest and links to sites in Lebanon where readers can adopt a cedar or otherwise contribute to Lebanon's reforestation effort.
This weekend, I've participated in the Olde Town, Conyers Georgia Fall Festival October 20th, 2018 where together with SCBWI, my law firm sponsored an Authors' Table. Instead of selling the book directly, I gave away bookmarks and wrist bands and encouraged people to go online and buy directly from the Amazon store.
Of all the manuscripts I've written (five full and counting), this is the one I love the most. I've nurtured it, written it and re-written it, and cuddled it close for a good eight years.  So, you may wonder, why have I chosen this time to self-publish my book baby? There's two fist-fulls of reasons, but I'll give you four to start:
I've laser- targeted my initial potential audience;
I believe I'm the best one to pitch the book to this market;
Current technology, including KDP Create Word Add-in, make it possible for me to produce a professional looking book in a short amount of time;
Family life events have led me to decide this is the time for this move.
Here's my to-do list for the next few days:
Write blog articles for the three websites where I (sporadically) blog: tkread.com, www.writersandwannabes.com, and this site;
Research current marketing venues and costs;
Identify and collect contact information for list of persons and organizations to receive my book baby's birthday notice and invite.
Since the best way to meet any goal is to break it down into achievable, short term chunks, suffice it to say, this is all I'm concerned with right now. If you'd like a broader picture of where I'm going with this, please check out 100 Small Fires to Make Your Books Sale Blaze!  at https://amzn.to/2PH5HBK. 
While I've obviously squashed the time-line, I'll be utilizing many of the steps set forth in the Medium Marketing Budget for Fiction Books set forth in 100 Small Fire's appendix. Here's that budget:
LIGHT A FIRE MARKETING PLAN FOR MEDIUM BUDGETS
(This budget is for a fiction novel with French characters)
LEGEND
PrP = PRE-PUBLICATION PoP = POST-PUBLICATION
# = NO. OF FIRE
EIGHT MONTHS OR MORE PRIOR TO BOOK BIRTHDAY PrP
 Established business entity (outside the scope of this book): Consult a tax professional and/or attorney to determine what structure of business is best for you with regard to deducting expenses and declaring profits.
FOUR TO EIGHT MONTHS PrP:
$0 Submitted draft of book to beta readers for feedback and editing.
$0 Researched target market, including blog sites for MG books.
$0 Created time-line and marketing plan for crucial events.
$63.93 Purchased domain name (1 year) and blog hosting (1 year) from GoDaddy.com.
$0 Signed up book name and companion name at www.twitter.com for twitter accounts.
$0 Updated Web site to include blog and page just for this book.
$0 Caught-up on posting reviews for writer friends at Goodreads, Amazon and Shelfari.
$0 Updated personal Facebook account and set up Google+ site in personal name.
$$$150 Signed up for one writing conference for a time period prior to launch
$0 Started collecting emails into lists for launch day notices and promos.
THREE TO FOUR MONTHS PrP:
$0 Developed cover art, character art and logos for use in media kits, promos and giveaways
$300 Put together media kits and promo kits and submitted to newspapers and magazines requiring a 6-12 week window.
$0 Put together a Indiegogo proposal for book launch, together with a built-in budget for giveaways and promos.
TWO TO THREE MONTHS PrP:
$0 Plotted blog book tour, gathering contact information and made initial contact.
$0 Reviewed Amazon's Top 1000 Reviewers and composed a list of at least 20 likely targets. Reviewed Amazon's list of top French reviewers and composed list of 20 likely targets.
$50 Finalized book and formatted for Kindle using templates and mobi.
$$250 Purchased Bowker ISBNs
$0 Started working on an eBook cover and paper book cover.
$0 Ran Kickstarter for 45 days. Used cover art in promos and giveaways.
$ Contracted Create Space for print edition
$125.00 Pre-ordered 25 copies from Create Space so book will show up with a "buy now" button on birthday.
ONE MONTH TO BIRTHDAY!
 $0 Contacted list of targeted Amazon Top 1000 Reviewers who indicated could contact before launch day.
$35 Sent off to for copyright online at www.copyright.gov.
$0 Wrote sales copy for listing on Amazon, and determined key words.
$0 Composed Author's page for later copying and insertion on book's birthday.
$$$350.00 Purchased/prepared promos for crowd funder related giveaways and blog tours
YOUR BOOK'S BIRTHDAY!
$0 Published eBook on Amazon with KDP direct.
$ Published print book with Create Space.
$0 Posted Author's page with previously written content.
$0 Posted to Social Media with previously written content.
$0 Filmed B-day video for later inclusion in You Tube or on Web site.
$0 Took lots of pictures for use in social media and posted some of them.
ONE MONTH TO THREE MONTHS PoP: 
$0 Contact post publication reviewers.
$0 Blog Tour!
$0 Listed book in Bowker's Books in Print
$ Worked on getting French translator for French version
$$$1600.00 Contacted Audio producer for audio version
$0 After audio version available, used KDP free days plus stepped up marketing to increase sales
$200 Used Fire Starters with free days sales figures need a boost.
$150 Created first set of Birthday party and bling packs for sale from Web site.
$3,223.93 Total
My goal is to spend less than this total, with hopefully more exposure.
Cheers, and good writing (and publishing) to you! TK