If you like the smell of green things growing, the shade of a mature tree or the taste of home-grown vegetables, then this is your time of the year! Earth day and The National Arbor Day happen over the next eight days, and there are enough online and in person events scheduled that even you last-minute procrastinators can participate.
Thursday, April 22, 2021 is the 51st Earth Day and the anniversary of signing of the Paris Agreement. This year's theme is "Restore our Earth" and the sponsors want you to know the world can't go back to "business as normal," because the crisis threatening our shared home is ongoing. Want to learn more about why this day is important, how you can join in the many events, or what you can do to make your own carbon foot print smaller? Here are some links to start you on your way:
Start here: https://www.earthday.org/earth-day-2021/ There's a super cool, interactive map and search box that makes it easy to see what's going on near you and all over the planet. If you search for "Conyers, Georgia" you'll find my give away. Check it out!
To learn more about why Earth Day is always celebrated on the 22nd of April, go here: https://www.earthday.org/history/
US National Arbor Day is always the last Friday of April as well! Here's the link to their website where they have all kinds of suggestions to celebrate: https://www.arborday.org/celebrate/#:~:text=National%20Arbor%20Day%20is%20April%2030%2C%202021.
If one day to glorify trees isn't enough for you, they also have an interactive map with each state's arbor day celebrations and a list of international dates. For these, go here:
https://www.arborday.org/celebrate/dates.cfm
Now, I know you are wondering, hey, TK what are you doing to celebrate these important dates? Well, my nickname growing up was "Tree" and my family still calls me that, I've written an award winning book about a tree guardian, and I've painted a picture of "The Guardian of the World."
So, I'm going big. To celebrate these dates, I'm doing the following: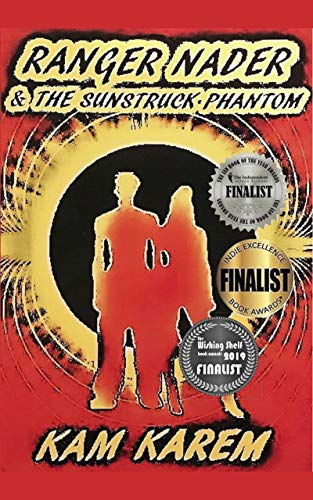 RANGER NADER & THE SUNSTRUCK PHANTOM will be free on Amazon between April 21 through April 25th 2021. Check out the book and its reviews here:
AND… I'll be giving away three free signed copies of my poster print of The Guardian of the World on April 22, 2021. Want to win one? It's easy! Make a comment below, saying, "Give me a Guardian" and at 12pm Sunday, April 25th, I'll pull three names out of a hat from all commentators. Look for my response saying "You've won!" For directions on how I can get the signed painting to you. Here's the original painting: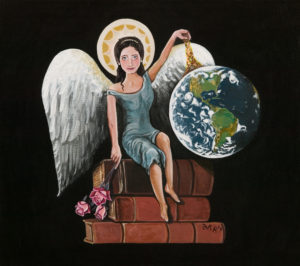 Finally, I'm going to donate to one of my favorite tree planting groups:
The Lebanon Reforestation Initiative. Go here to contribute money towards planting a tree, a family of trees or adopt a site, you decide!
Here are other links for learning more about conservation efforts across the globe:
https://diygarden.co.uk/wildlife/how-to-prevent-deforestation/ A great blog by British Rachel Brown on planting for deforestation
Here's where you can donate to save rain forests: https://www.rainforesttrust.org/earth-day/
Here's National Geographic's page with ideas for activities that kids can do for Earth Day/Arbor Day: https://kids.nationalgeographic.com/celebrations/article/earth-day
AND…. Here's a link to eco-friendly binge worthy shows to inspire your inner Earth Warrior: https://ecowarriorprincess.net/2021/04/environmental-documentaries-to-binge-watch-2021/