Release Date: November 13th, 2023
Author Racks-up Awards for Books Holding Gilgamesh Accountable for Historical Flooding in the Middle East

Out of control wild fires and floods have spotlighted the impact of trees on the environment. However, these are not merely recent problems. A children's book author blames ancient Sumerian King—Gilgamesh a reputed demigod, for historical flooding in the Middle East. In the celebrated poem, The Epic of Gilgamesh, Gilgamesh killed the protector of the famous Lebanese Cedar Forest, and then chopped down all the trees. Author Kam Karem has published a two book fiction series written from the perspective of the forest keeper's descendants and recently received another awards sticker for the first book's cover.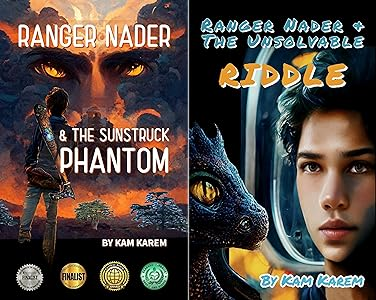 In Ranger Nader & The Sunstruck Phantom, Ranger thinks he's an ordinary 9th grader, then he inherits the title of "Forest Keeper," a magic ax, and the family feud with Gilgamesh of Epic fame. The crazy demigod-king has returned to destroy the Forest and the world, and Ranger has to stop him. In the second book, Ranger Nader & The Unsolvable Riddle, Ranger loses his crew and his ship to a bad decision. He compounds his troubles when he "borrows" the legendary six-bull ship and flies it solo to solve a mystery, a riddle, and a crime.

According to Karem, one of the stories' underlying motifs is the constant struggle and tension between the consumers and protectors of our planet's finite resources. "Gilgamesh is an anti-hero for our times. He sought and obtained fame for his destruction of Lebanon's tremendous Cedar Forest, reputedly causing a great flood. Today, there are those who emulate him in their unfettered use and abuse of irreplaceable resources such as forests, rivers and the ocean."

This series has resonated with book critics, awards panels, and readers of all ages. Ranger Nader & The Sunstruck Phantom was named a winner in the 2023 International Book Awards in the Legacy Children's Book division, and also was a gold medal winner in the 2022 Global Book Awards. It also finaled in the Young Adult/Teen/New Adult category in the prestigious 2019 IAN (Independent Author Network) Book of the Year Awards, and in the 2019 National Indie Excellence Award. Finally it was Long Listed by the 2019 Green Earth Book Awards. The other book in the series, Ranger Nader &The Unsolvable Riddle, which was recently released has racked up FIVE five star reviews from Readers Favorites, a respected book reviews and awards site. https://readersfavorite.com/rfreviews/search?search=kam+karem

The series is appropriate for children nine years and older. It's on sale now at Amazon at https://amzn.to/2yMX15A. You can read more about Kam Karem