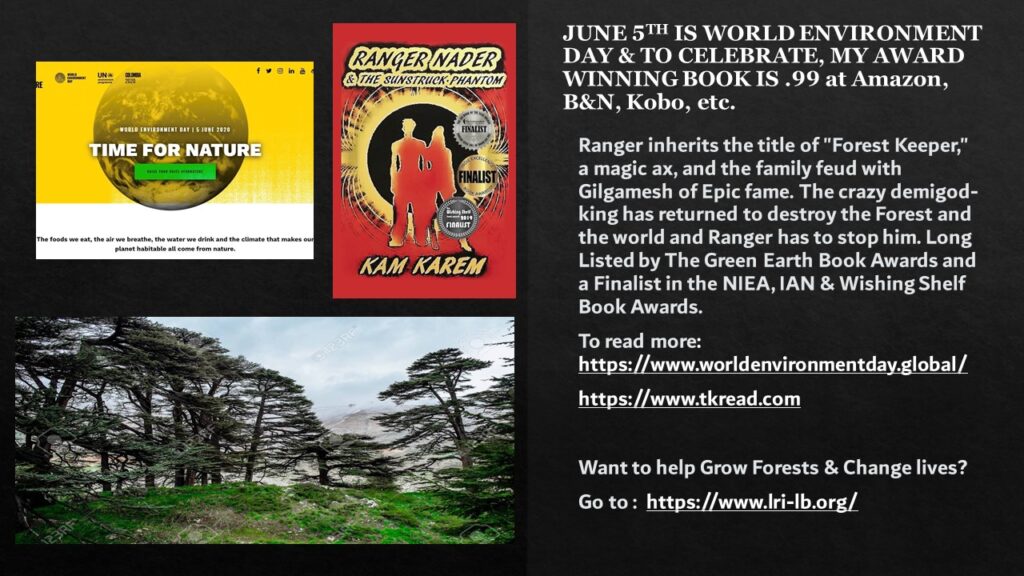 June 5th, 2020 is World Environment Day. The UN Environment Program (UNEP) organizes this every year to encourages people to be aware of the environment and to take positive steps for its protection. This year's theme is 'Time for Nature. The website expresses it beautifully:
The foods we eat, the air we breathe, the water we drink and the climate that makes our planet habitable all come from nature.
Yet, these are exceptional times in which nature is sending us a message: To care for ourselves we must care for nature; It's time to wake up. To take notice. To raise our voices; It's time to build back better for People and Planet; This World Environment Day, it's Time for Nature.
The Lebanese Reforestation Initiative is one of my favorite organizations organized to care for the planet by planting trees and instill a love of nature in young and old people alike. To see how they "Grow trees, Change Lives," go here: https://www.lri-lb.org/
I'm celebrating World Environment Day by discounting my book, which was Long Listed by the Green Earth Book Awards and making a donation to The Lebanese Reforestation Initiative so they can continue in their invaluable work. They have various ways to donate, by tree, by family, by site. Here's the link to donate to them: https://www.lri-lb.org/contribution-packages
Here's the link to learn more about World Environment Day, https://www.worldenvironmentday.global/
And, here's the link to buy Ranger Nader & The Sunstruck Phantom: https://amzn.to/2yMX15A